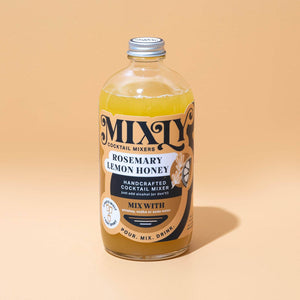 A modern twist on a classic whiskey sour recipe.
Lemon, water, honey, orange and rosemary

, this mixer pairs perfectly with whiskey, vodka or make it mocktail with a splash of soda water.




 Handcrafted with Fresh Ingredients: The key to any good cocktail is the ingredients. That's why Mixly starts with high-quality, natural ingredients, fresh squeezed juices and honey to bring you a unique and refreshing cocktail experience. 

Sweetened with Honey: No cane sugar or artificial sweeteners here! Mixly is made with all natural honey for the perfect touch of sweetness.  Cocktail or Mocktail: Mixly is made to mix your way.