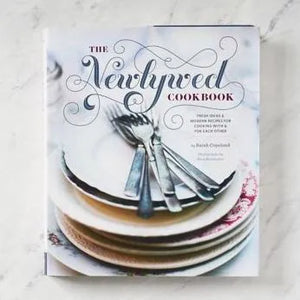 More than a collection of recipes, this go-to cookbook for brides and grooms is also a guide to domestic bliss.

"[This book] aims to inspire you to bring the love of your relationship and to translate it into the food you prepare together." —Huffington Post
This beautiful and sophisticated cookbook for newly married couples features 130 recipes for both classic and contemporary meals that are perfect for day-to-day à deux and special occasions with family and friends. It is a collection of sweet and special moments waiting to be shared with your loved one.
Mouthwatering recipes for creating and enjoying delicious, satisfying meals for and with each other include Golden Zucchini Bread, Lobster Rolls, Skillet Corn Bread, Brown Sugar Pudding, Elderflower Spritzers, Hibiscus-Ginger Tea, and so much more. Author Sarah Copeland, once a newlywed herself, knows that sourcing, cooking, and sharing food together at the table makes for a happy couple!
A great gift for engagements and bridal showers!