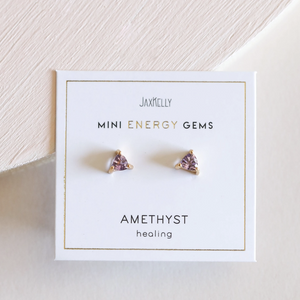 These Mini Energy Gems are perfect little reminders to attract & manifest a colorful spectrum of positive energy to make your world a brighter place to thrive.
Need to set aside some much-needed you time? Let our amethyst gems serve as a reminder to take a little extra time to love and nurture yourself.
Each gem is 4.8 mm tall & held in an 18k gold-plated setting with a sterling-silver base.

JaxKelly is a woman-owned and operated jewelry line based in San Diego. We love them for their mindful products that evoke a sense of peace, love, and joy.